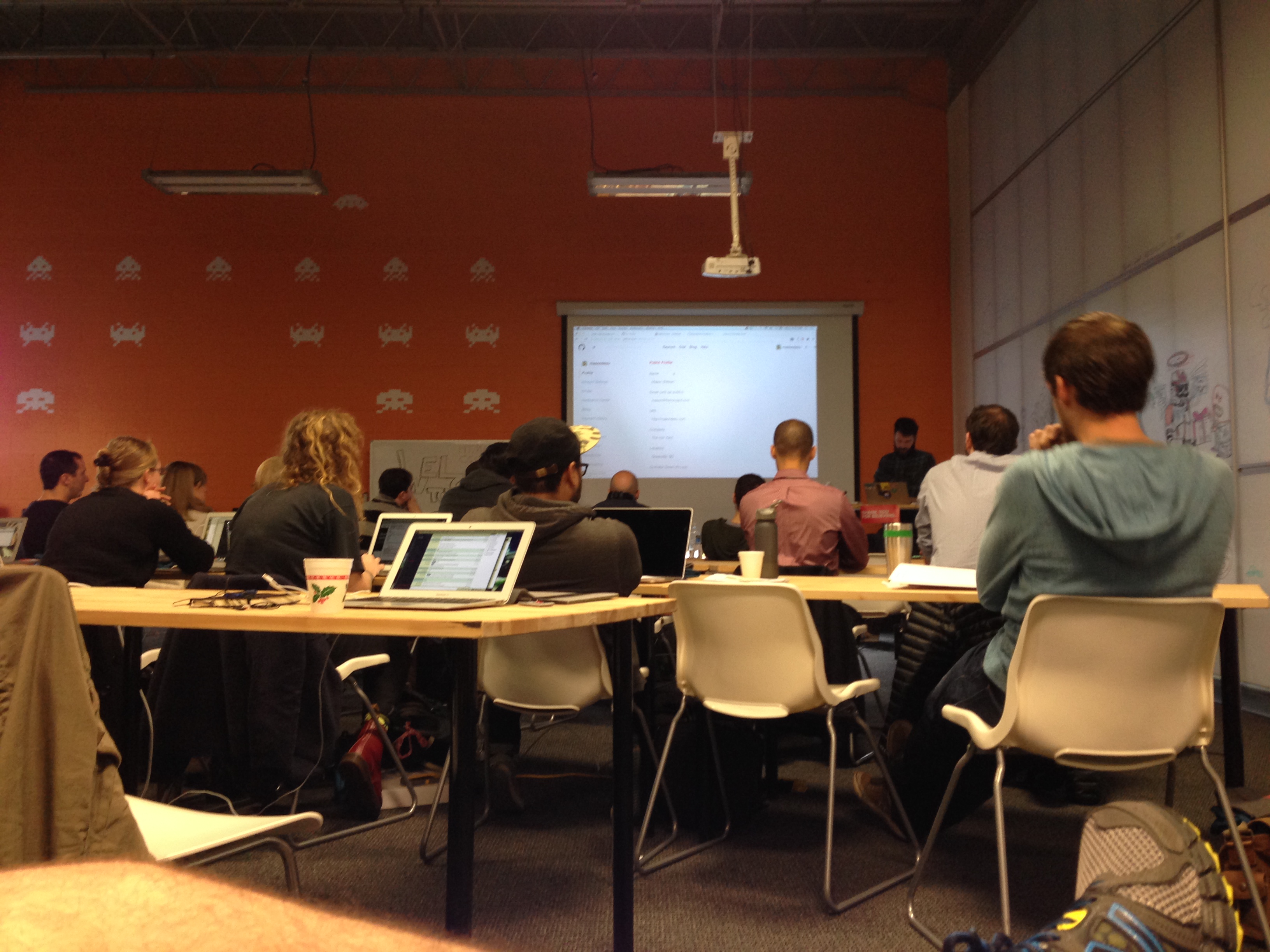 Hey guys (and gals), I'm Nick Bucciarelli (find me on Twitter and GitHub). I write code, I teach code, and I dream code. It's pretty much what I do day in day out!
I worked for 4 years as a Ruby on Rails developer at a small shop called Jack Russell Software. I quickly climbed the ladder from Apprentice to Senior Developer. It was the perfect place to hone the skills in programming and leadership that I will need as an instructor, guiding all of you future students-turned-experts into awesome jobs as Rails devs.
We need teachers who teach what they do!
When I first started learning web technologies like Ruby on Rails, I wish I had a program like The Iron Yard that wasn't afraid to move with the times. Technology changes so fast, and the most popular things one year will phase out the next year.
I searched for classes that could teach me what I needed to know, but nothing was offered. I crawled the internet for every ounce of knowledge I could find, but it still wasn't good enough. So I just had to learn by mistake after mistake, on the job.
How does this help you?
We trim the fat, teach you what you need to know and most importantly, we teach you how to learn. So if Rails isn't in your future, you will be experienced enough to learn any technology you want.
We are solving a big problem
There is a desperate need for talent and no "GOTO" (GET IT!?) place to learn. Traditional universities have trouble keeping up with the speed of today's tech trends. Our teaching style—hands on, real projects and practicing professional teachers (like me)—ensure that our grads are trained and job-ready.
The school is already rolling in Greenville, and I jumped at the opportunity to bring The Iron Yard to Charleston at 150mph (hint: I like fast cars).
We're having fun in the process
There is something you should know about The Iron Yard: we have an intense focus on culture and want to bring it to all of our students! Work hard, play hard. Frequently, our co-workers will stay after hours and come in on weekends just to get their tasks done. Beer flows and beards grow. Jokes run rampant; we have a good time! It's very rare you meet people as engrossed in their jobs and atmosphere as you will with our team. Being a good fit as an employee here is not just about what you know, but how well you will fit in! Can you put your nose to the grindstone for 12 hours a day? Could you let loose and drink a few beers? Working here sets the bar for how I expect the atmosphere to be anywhere I end up. It also sets the bar for everything I expect from my students.
To my future students
This work ain't easy! You will be challenged with every morsel of your work ethic to finish homework assignments after grueling live-coding-to-teach sessions. The only way to apply anything that will be taught to you will be to apply it in practice. But don't worry…I'll be there to guide you every step of the way!
My classes will start on March 10th. Be ready.